The Knee Slice Pass by Dante Leon
Designed For All Levels - Whether you're a beginner or an advanced fighter, this course will change your game.
Downloadable videos - YES! You can download this course and watch it on your favorite devices.
Now available on BJJ Fanatics App - Downloadable on App Store and Google Play. You can view this course directly inside the app, it is streamable and downloadable.
100% Satisfaction Guarantee - If you are unhappy with this course for any reason you have 30 days to request a full refund, as long as you haven't downloaded it yet.
Dante Leon
Professional Fighter
Develop a World Level Knee Slice Pass with Globally Elite Grappler and IBJJF No Gi World Champion, Dante Leon and Learn How To Slice Through Guards With Authority
Dante Leon is an accomplished Canadian grappler, currently ranked No. 2 in the World at 77kg, with multiple IBJJF World and Pan Am Titles to his credit
The knee slice is one of the most highly utilized and effective tools in all of grappling and Leon has successfully molded this technique into a multi tired passing system that's been proven at the highest levels of competition
Adapt the knee slice for close and long distance passing, deal with the dreaded underhook, leave the ¼ guard in your rearview mirror, break down the knee shield, and more in this complete guide to knee slice mastery
Course Content
Volume 1
CHAPTER TITLE
START TIME
| | |
| --- | --- |
| Intro | 0 |
| Meta of jiu jitsu passing how it has evolved and changed over time | 1:02 |
| Differences between knee slice passing posture between gi and no gi | 3:49 |
| Close knee slice passes - Passing from the basic half guard | 8:29 |
| Beating a tough quarter guard | 14:14 |
| Three Quarter guard to mount | 19:24 |
| Three quarter mount option 2 | 24:33 |
| Passing from the deephalf | 29:55 |
| Undertook counter 1 | 36:28 |
| Undertook counter 2 | 41:23 |
| Undertook counter 3 | 46:01 |
Volume 2
CHAPTER TITLE
START TIME
| | |
| --- | --- |
| Passing the knee shield 1 | 0 |
| Dealing with the Z Guard | 5:57 |
| Passing the knee shield 2 | 10:53 |
| Passing the Knee shield 3 | 15:03 |
| Dealing with the cross posts | 19:16 |
| Cross posts counter to knee slice pass | 24:25 |
| Cross post counter to armlock option 2 | 29:29 |
| Crosspost counter to front headlock option 3 | 33:16 |
| Countering reverse De La Riva | 37:50 |
| Shin ride pass from reverse De La Riva | 42:05 |
| Rear leg and step out from reverse De La Riva | 45:42 |
| Rear leg post, passing to opposite side | 49:55 |
| Folding pass from the reverse De La Riva | 53:45 |
Volume 3
CHAPTER TITLE
START TIME
| | |
| --- | --- |
| Open guard knee slices - How to force halfguard | 0 |
| Drop in basic knee slice | 5:03 |
| Side smash off of opponents defense | 9:09 |
| Leandro Lo style knee slice pass | 13:18 |
| Diving knee pass variation 2 | 16:46 |
| Double knee slice | 20:34 |
| Negative side knee slice pass | 24:15 |
| Entering a supine guard and trapping shin | 28:20 |
Volume 4
CHAPTER TITLE
START TIME
| | |
| --- | --- |
| Bodylock/butterfly guard - Beating legs and finding knee slices | 0 |
| Knee slice from elevated butterfly | 5:24 |
| Single side butterfly knee slice counter | 9:35 |
| Defense against knee slice guard sit up guard and shin to shin | 13:01 |
| Outro | 17:49 |
Learn Leon's Most High Percentage No Gi Passing Techniques And Strategies Using The Knee Slice As The Centerpiece To Dominate From The Top And Dismantle Multiple Classic And Modern Guard Configurations
Check Out The Trailer!
What Will You Learn?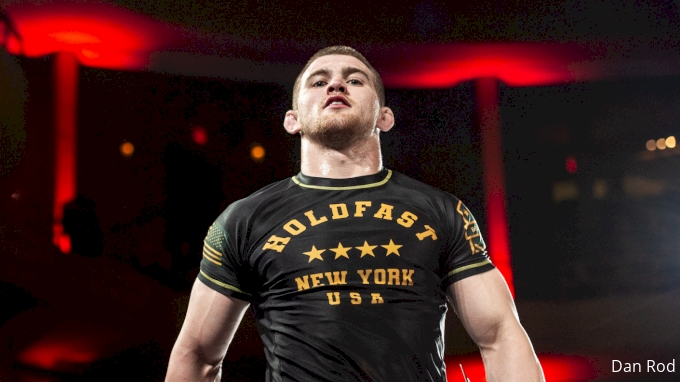 As the current No. 2 ranked 77kg grappler in the world, Multiple Time IBJJF Gold Medalist Dante Leon has cemented his place in history as one of the sport's most successful and exciting competitors, in both gi and no gi formats! He's well-known for his incredible top game and ability to pass with ruthless precision and wIth The Knee Slice Pass, you'll get a firsthand look at Leon's favorite and most trusted passing strategies that he's relied on over and over again in his quest to become the best in the world! Leon will help you perfectly transition your knee slice game for the no gi format and provide you with the tools you need to dominate and  pass multiple guards from varied distances as you learn to put this classic technique to work in a more effective and high percentage manner! 
In 4-parts Leon will reveal the secrets of knee slice success, starting with an explanation of how passing itself has evolved over time and the distinct differences between using the knee slice gi and no gi. From there you'll dive into multiple variations of the pass, that include dealing with the knee shield, ¼ guard, one of the knee slice' greatest enemies; the under hook, and much much more! Leon will hit you with multiple strategies for passing the open guard, deep half guard, half guard and more, as you recruit dangerous world level tools into your own passing arsenal, all with the guidance of one of today's most successful competitors! 
Get your knee slice details from one of the best grapplers on the planet! This isn't just a guide to the traditional knee slice. This is a complete blueprint that will help you adapt the technique to an entire catalogue of different scenarios and guard configurations! From common reactions to multiple variations and dealing with some of the most troublesome foes of the technique, Leon has you covered in this perfectly formulated roadmap for knee slice success! 
So, What Exactly Do You Get?
PART 1

INTRO
META OF JIU JITSU PASSING HOW IT HAS EVOLVED AND CHANGED OVER TIME
DIFFERENCES BETWEEN KNEE SLICE PASSING POSTURE BETWEEN GI AND NO GI
CLOSE KNEE SLICE PASSES

PASSING FROM THE BASIC HALF GUARD
BEATING A TOUGH QUARTER GUARD
THREE QUARTER GUARD TO MOUNT
THREE QUARTER MOUNT OPTION 2
PASSING FROM THE DEEP HALF
UNDERHOOK COUNTER 1
UNDERHOOK COUNTER 2
UNDERHOOK COUNTER 3
PART 2

PASSING THE KNEE SHIELD 1
DEALING WITH THE Z GUARD
PASSING THE KNEE SHIELD 2
PASSING THE KNEE SHIELD 3
DEALING WITH THE CROSS POSTS
CROSS POSTS COUNTER TO KNEE SLICE PASS
CROSS POST COUNTER TO ARMLOCK OPTION 2
CROSSPOST COUNTER TO FRONT HEADLOCK OPTION 3
COUNTERING REVERSE DE LA RIVA
SHIN RIDE PASS FROM REVERSE DE LA RIVA
REAR LEG AND STEP OUT FROM REVERSE DE LA RIVA
REAR LEG POST, PASSING TO OPPOSITE SIDE
FOLDING PASS FROM THE REVERSE DE LA RIVA
PART 3

OPEN GUARD KNEE SLICES

HOW TO FORCE HALF GUARD
DROP IN BASIC KNEE SLICE
SIDE SMASH OFF OF OPPONENTS DEFENSE
LEANDRO LO STYLE KNEE SLICE PASS
DIVING KNEE PASS VARIATION 2
DOUBLE KNEE SLICE
NEGATIVE SIDE KNEE SLICE PASS
ENTERING A SUPINE GUARD AND TRAPPING SHIN
PART 4

BODYLOCK/BUTTERFLY GUARD

BEATING LEGS AND FINDING KNEE SLICES
KNEE SLICE FROM ELEVATED BUTTERFLY
SINGLE SIDE BUTTERFLY KNEE SLICE COUNTER
DEFENSE AGAINST KNEE SLICE GUARD SIT UP GUARD AND SHIN TO SHIN
OUTRO
$97