The Crucifix and Loop Choke by Alexandre Vieira
Learn The Two Most Simple Yet Neglected Chokes In BJJ Today – These Two Moves Could Tap Everyone In Your Gym
Alexandre Viera – Who Lives & Trains In Rio –Shows All Of The Secrets Of The Moves That Made Him World Famous
Alexandre had the best submission of the year
Loop chokes are the easiest submissions to get because everyone neglects them
Add these unique weapons to your arsenal
Develop a dangerous set of attacks from the crucifix
Course Content
Volume 1
CHAPTER TITLE
START TIME
| | |
| --- | --- |
| Traditional crucifix | 0 - 4:33 |
| Alexandre crucifix style | 4:33 -14:21 |
| Crucifix from back with hooks | 14:21 - 17:32 |
| Crucifix against stand up | 17:32 - 20:09 |
| Crucifix against high crotch single | 20:09 - 22:51 |
| Single leg counter | 22:51 - 26:05 |
| Top slide pass crucifix | 26:05 - 30:47 |
| Lapel drag | 30:47 - 35:03 |
| SIDE CONTROl | 35:03 - 39:16 |
| Deep half counter | 39:16 - 41:42 |
| Double leg counter loop choke transition to crucifix | 41:42 - 43:56 |
Volume 2
CHAPTER TITLE
START TIME
| | |
| --- | --- |
| Traditional loop choke | 0 - 3:02 |
| Traditional loop choke cross arm | 3:02 - 4:50 |
| Explanation dissecting traditional loop choke | 4:50 - 6:31 |
| Alexandre Personal loop choke style | 6:31 - 10:50 |
| Loop choke closed guard traditional | 10:50 -13:08 |
| Loop choke drill | 13:08 - 16:11 |
| giving the guard pass to get the loop choke | 16:11 - 21:56 |
| Loop choke when opponent bear hugs legs | 21:56 - 26:14 |
| Loop choke from under side control | 26:14 - 29:21 |
| Loop choke deep half guard | 29:21 - 32:33 |
| Deep half loop choke sweep variation | 32:33 - 35:29 |
| Lying down firemans carry | 35:29 - 38:20 |
| Firemans carry loop choke when he stands up | 38:20 - 40:16 |
| Reaction to the undertook : trouble shooting against a underhook | 40:16 - 43:28 |
| Loop choke from top split guard | 43:28 - 47:44 |
| De la riva reaction | 47:44 - 51:39 |
Volume 3
CHAPTER TITLE
START TIME
| | |
| --- | --- |
| Half guard pass | 0 - 5:16 |
| Knee slice passing | 5:16 - 9:12 |
| Reverse half guard pass | 9:12 - 11:48 |
| Choke from mount | 11:48 - 14:23 |
| Single leg defense | 14:23 - 17:14 |
| Double leg defense | 17:14 - 20:22 |
| Fake moroto Seionage fake to loop choke | 20:22 - 22:14 |
| Choking the Turtle position | 22:14 - 25:19 |
| Choking from back | 25:19 - 28:43 |
| Jump over loop choke | 28:43 - 32:13 |
| Loop choke counter | 32:13 - 35:46 |
| Wrist lock | 35:46 - 39:25 |
| Lapel drag | 39:25 - 42:55 |
| Double unders counter | 42:55 - 45:04 |
| Loop choke variation double under | 45:04 - 47:41 |
| Over under counter | 47:41 - 51:06 |
| Reverse de la riva lapel | 51:06 - 55:50 |
Learn The Two Most Simple Yet Neglected Chokes In BJJ Today – These Two Moves Could Tap Everyone In Your Gym
Alexandre Viera – Who Lives & Trains In Rio –Shows All Of The Secrets Of The Moves That Made Him World Famous
Alexandre had the best submission of the year
Loop chokes are the easiest submissions to get because everyone neglects them
Add these unique weapons to your arsenal
Develop a dangerous set of attacks from the crucifix
Course Content
Volume 1
CHAPTER TITLE
START TIME
| | |
| --- | --- |
| Traditional crucifix | 0 - 4:33 |
| Alexandre crucifix style | 4:33 -14:21 |
| Crucifix from back with hooks | 14:21 - 17:32 |
| Crucifix against stand up | 17:32 - 20:09 |
| Crucifix against high crotch single | 20:09 - 22:51 |
| Single leg counter | 22:51 - 26:05 |
| Top slide pass crucifix | 26:05 - 30:47 |
| Lapel drag | 30:47 - 35:03 |
| SIDE CONTROl | 35:03 - 39:16 |
| Deep half counter | 39:16 - 41:42 |
| Double leg counter loop choke transition to crucifix | 41:42 - 43:56 |
Volume 2
CHAPTER TITLE
START TIME
| | |
| --- | --- |
| Traditional loop choke | 0 - 3:02 |
| Traditional loop choke cross arm | 3:02 - 4:50 |
| Explanation dissecting traditional loop choke | 4:50 - 6:31 |
| Alexandre Personal loop choke style | 6:31 - 10:50 |
| Loop choke closed guard traditional | 10:50 -13:08 |
| Loop choke drill | 13:08 - 16:11 |
| giving the guard pass to get the loop choke | 16:11 - 21:56 |
| Loop choke when opponent bear hugs legs | 21:56 - 26:14 |
| Loop choke from under side control | 26:14 - 29:21 |
| Loop choke deep half guard | 29:21 - 32:33 |
| Deep half loop choke sweep variation | 32:33 - 35:29 |
| Lying down firemans carry | 35:29 - 38:20 |
| Firemans carry loop choke when he stands up | 38:20 - 40:16 |
| Reaction to the undertook : trouble shooting against a underhook | 40:16 - 43:28 |
| Loop choke from top split guard | 43:28 - 47:44 |
| De la riva reaction | 47:44 - 51:39 |
Volume 3
CHAPTER TITLE
START TIME
| | |
| --- | --- |
| Half guard pass | 0 - 5:16 |
| Knee slice passing | 5:16 - 9:12 |
| Reverse half guard pass | 9:12 - 11:48 |
| Choke from mount | 11:48 - 14:23 |
| Single leg defense | 14:23 - 17:14 |
| Double leg defense | 17:14 - 20:22 |
| Fake moroto Seionage fake to loop choke | 20:22 - 22:14 |
| Choking the Turtle position | 22:14 - 25:19 |
| Choking from back | 25:19 - 28:43 |
| Jump over loop choke | 28:43 - 32:13 |
| Loop choke counter | 32:13 - 35:46 |
| Wrist lock | 35:46 - 39:25 |
| Lapel drag | 39:25 - 42:55 |
| Double unders counter | 42:55 - 45:04 |
| Loop choke variation double under | 45:04 - 47:41 |
| Over under counter | 47:41 - 51:06 |
| Reverse de la riva lapel | 51:06 - 55:50 |

Check Out The Trailer!
What Will You Learn?
The crucifix position, even though it is one of the most dominant controls you can have, is often overlooked by a lot of BJJ practitioners. Most will only attack the back from turtle, or with hooks in, attempting the few available chokes and arm locks. You don't have to fall into that same trap, as you watch and learn how to transition into, and attack from, this dynamic position. Alexandre starts by taking you through the traditional entries and attacks, explaining the pressure, grip battles, and changes in angle necessary to hook and trap your opponent. After the traditional, next see Alexandre's supercharged style of crucifix, where he's using every part of his body to isolate and break down defenses, putting himself in a can't lose position. After you learn what makes this position so effective, Vieira shows you entry after entry after entry, giving you a huge variety of ways to get to this position and finish fights.

This is a perfect set for anyone who has had trouble taking the back and finishing the fight. Alexandre's method of hooking his leg is effective for anyone, against anyone, making the fight your whole body against their one leg. We like those odds! Flow into the crucifix from your guard, chain it together with a pass, or even manage to get there from bottom side control! Once you know the position, you can pass to it consistently any number of ways.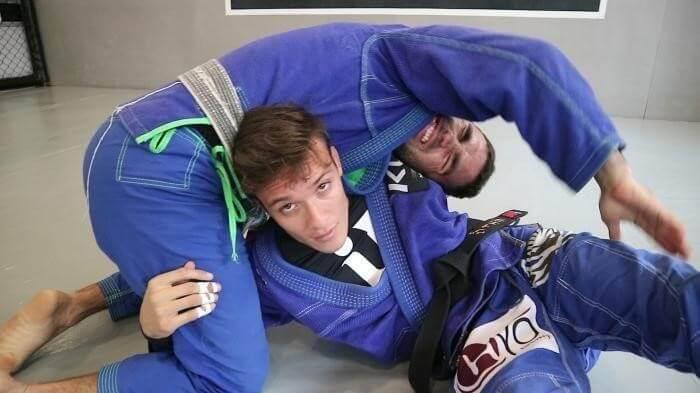 So often, grapplers attacking the crucifix are left stuck stubbornly fighting grips, without anything more dynamic to go to. With Vieira's signature control, that's no longer an issue. By hooking his opponent's leg in the crucifix, he's both simultaneously controlling and isolating almost all of his opponent's limbs AND creating pressure to break through their defenses! This simple hook takes the regular crucifix control and turns it into a whole new battle!

You don't get to a 100% black belt submission rate without having a strong variety of attacks, and Alexandre Vieira is no exception. Lock on the crucifix and learn how to continually chain submission to submission, following your opponent anywhere they choose to go, each time one step ahead of them. Alexandre has left opponent's tapping to gi chokes, mata leao's, and armbars all from the same position, and he's here to show you how to accomplish the same. The trick is in how he has isolated each limb, meaning that while someone is defending one limb, another has become vulnerable.

There's always a risk while you are passing of getting caught up in a pesky quarter guard battle than can eat up precious time and energy. Instead, watch as Alexandre changes it up and rolls that position into the crucifix, where he can attack the submission. Notice the balance and hip pressure that makes a huge difference, as you keep your grips one step ahead of theirs and roll to your control. Don't miss the key details he includes on how to isolate the arm with a simple hip switch.

Vieira's crucifix isn't just for offense, he has found huge success in using this position to escape bad positions. Watch how he turns bottom side control into his own back take, and what most people in the crucifix need to know in order to keep their balance from tipping forward. This is not a move only meant for the most flexibile or fighters with the longest legs, you are using your body's positioning and balance to trap them and sweep them across your body, anyone can do this.

Everyone is watching tape on this loop choke, and it can be yours, with every detail explained. Again, Alexandre starts with the traditional loop choke, attacking the head with a collar grip and rolling to finish, before adding what has made him one of the most feared in the featherweight division. See those key adjustments that let him finish fights, even after his guard has been passed. He's taken the loop choke we all are taught and made it his own, and now he's decided to share it with everyone. Once you've learned the submission, you'll see the real magic of the technique: you can hit it from out of nowhere! Alexandre will lead you through the most common situations you can attack from, counters to common situations, and even how he's managed to choke so many people unconscious while stuck underneath in side control. This is a can't miss piece of jiu-jitsu knowledge!

Alexandre is a relentless submission fighter, and his loop choke is one of the most nuanced and advanced attacks in his arsenal. See the finish behind one of the most viral submissions of the year as he connects the standard loop choke to a fireman's carry, and finishes his opponent in style. Learn how to create the reactions and set the traps from your guard, then finish the choke no matter where they go.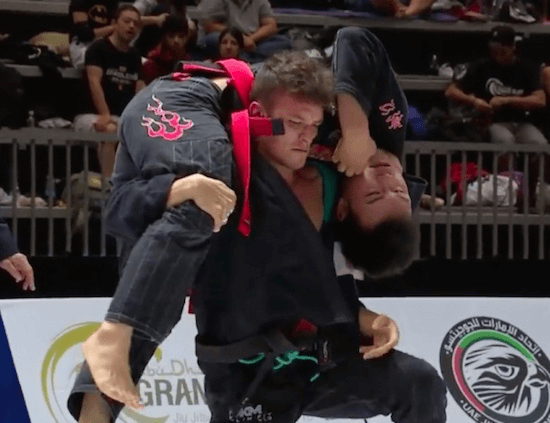 All too often, when you attack a loop choke, the head can slip out, or they roll and escape. All that work for nothing! Alexandre changes things up with a simple grip adjustment and then using his elbow and shoulder to limit the space and hide the head, closing the loop. Once that loop has been closed, he is free to attack the choke without any fear of losing the submission.


How does Alexandre manage to tap out so many black belts after he's already gotten his guard passed? He's baiting the guard pass to strengthen the choke. Like magic, watch as you set your grip, give the pass, and wind up with your opponent tapping. Prevent any escape by hooking through the leg, keeping their hips close and tight to you as you constrict. For most loop chokes, the angle would be too loose to be a serious choke from side control, but not with this simple adjustment to your shoulder and elbow.

Learn one of the most viral submissions of 2017 as Alexandre Vieira takes you step-by-step through his incredible loop choke from a kata guruma against Tomoshige Sera! Vieira will show you the key shoulder posture and head positioning needed to hip escape into position, and the elbow position needed to finish them off. From viral to instuctional, this one is can't miss!

Hitting the loop choke from top is tough, because you are committing both hands to the choke and leaving yourself open for sweeps. We're going to show you how to change that.
With Vieira's signature way of looping his choke, control the position with one arm, set the choke with the other, and let gravity and pressure do the rest! Open up your submissions from top with this handy adjustment.


Take every position and leave no doubt, as you learn how to attack like Alexandre Vieira. Force people into your game, as you take a modern and updated approach to a classic control, and improve your gi chokes dramatically with these tips and techniques. We've taken one of the most dynamic and creative jiu-jitsu styles in the world and recorded it across a 3-video set that is guaranteed to level up your ground game. What are you waiting for?


So, What's On The Series?

Part 1
Traditional crucifix
Alexandre crucifix style
Crucifix from back with hooks
Crucifix against stand up
Crucifix against high crotch single
Single leg counter
Top slide pass crucifix
Lapel drag
Side control
Deep half counter
Double leg counter loop choke transition to crucifix

Part 2
Traditional loop choke
Traditional loop choke cross arm
Explanation dissecting traditional loop choke
Alexandre Personal loop choke style
Loop choke closed guard traditional
Loop choke drill
Giving the guard pass to get the loop choke
Loop choke when opponent bear hugs legs
Loop choke from under side control
Loop choke deep half guard
Deep half loop choke sweep variation
Lying down fireman's carry
Fireman's carry loop choke when he stands up
Reaction to the undertook: troubleshooting against an underhook
Loop choke from top split guard
De la riva reaction

Part 3
Half guard pass
Knee slice passing
Reverse half guard pass
Choke from mount
Single leg defense
Double leg defense
Fake morote Seoi Nage fake to loop choke
Choking the Turtle position
Choking from back
Jump over loop choke
Loop choke counter
Wrist lock
Lapel drag
Double unders counter
Loop choke variation double under
Over under counter
Reverse de la riva lapel