KB Essentials an Instructional Guide to Kettlebell Training by Mike Perry
Swing Into the The Start to Finish Kettlebell Guide Designed Specifically For Fighters
Transform yourself with this centuries old method, designed specifically to bring out the fighter in you
Learn from elite strength and conditioning coach Mike Perry as he helps you prepare your body in this comprehensive fitness guide
Mike Perry is bringing his decade of professional experience to you with the only strength-building set you'll ever need again
Kettlebells have been a staple of championship fighter workouts for hundreds of years
Dominate all of your training partners
Course Content
Volume 1
CHAPTER TITLE
START TIME
| | |
| --- | --- |
| 2 handed swing Bodyweight - hip hinge - Kettlebell deadlift - Baby swing - Hike pass into full swing | 0 - 9:54 |
| One hand swing - One arm deadlift - One arm swing | 9:54 - 14:02 |
| Hand to hand swing - Switching grip drill - Hand to hand swing | 14:02 - 16:45 |
| Split stance patterns - 90/90 position - Split squat - Reverse squat - Front squat | 16:45 - 22:48 |
| The squat - Body weight Box squat - Body weight squat - Kettle bell box squat - Goblet squat | 22:48 - 28:48 |
| Turkish getup | 28:48 - 39:59 |
Volume 2
CHAPTER TITLE
START TIME
| | |
| --- | --- |
| Kettlebell arm bar | 0 - 4:04 |
| Kettlebell snatch | 4:04 - 9:09 |
| Kettlebell clean | 9:09 - 14:01 |
| Kettlebell clean and press | 14:01 - 17:15 |
| Kettlebell Push press | 17:15 - 20:04 |
| Double kettlebell swing | 20:04 - 23:09 |
| Double kettle bell cleans | 23:09 - 26:17 |
| Double kettlebell front squat | 26:17 - 30:18 |
| Double kettlebell press | 30:18 - 32:30 |
| Renegade row | 32:30 - 34:36 |
| Tall plank pull through | 34:36 - 35:46 |
| Kettlebell Deadbug | 35:46 - 37:58 |
| Loaded carries | 37:58 - 42:04 |
Swing Into the The Start to Finish Kettlebell Guide Designed Specifically For Fighters
Transform yourself with this centuries old method, designed specifically to bring out the fighter in you
Learn from elite strength and conditioning coach Mike Perry as he helps you prepare your body in this comprehensive fitness guide
Mike Perry is bringing his decade of professional experience to you with the only strength-building set you'll ever need again
Kettlebells have been a staple of championship fighter workouts for hundreds of years
Dominate all of your training partners
Course Content
Volume 1
CHAPTER TITLE
START TIME
| | |
| --- | --- |
| 2 handed swing Bodyweight - hip hinge - Kettlebell deadlift - Baby swing - Hike pass into full swing | 0 - 9:54 |
| One hand swing - One arm deadlift - One arm swing | 9:54 - 14:02 |
| Hand to hand swing - Switching grip drill - Hand to hand swing | 14:02 - 16:45 |
| Split stance patterns - 90/90 position - Split squat - Reverse squat - Front squat | 16:45 - 22:48 |
| The squat - Body weight Box squat - Body weight squat - Kettle bell box squat - Goblet squat | 22:48 - 28:48 |
| Turkish getup | 28:48 - 39:59 |
Volume 2
CHAPTER TITLE
START TIME
| | |
| --- | --- |
| Kettlebell arm bar | 0 - 4:04 |
| Kettlebell snatch | 4:04 - 9:09 |
| Kettlebell clean | 9:09 - 14:01 |
| Kettlebell clean and press | 14:01 - 17:15 |
| Kettlebell Push press | 17:15 - 20:04 |
| Double kettlebell swing | 20:04 - 23:09 |
| Double kettle bell cleans | 23:09 - 26:17 |
| Double kettlebell front squat | 26:17 - 30:18 |
| Double kettlebell press | 30:18 - 32:30 |
| Renegade row | 32:30 - 34:36 |
| Tall plank pull through | 34:36 - 35:46 |
| Kettlebell Deadbug | 35:46 - 37:58 |
| Loaded carries | 37:58 - 42:04 |

Check Out The Trailer!
What Will You Learn?

Tired of getting tired? Want to pack more power into your rounds? Now you can as veteran strength and conditioning coach Mike Perry is bringing his decade of professional experience to you with the only strength-building set you'll ever need again.

Kettlebells have been a staple of championship fighter workouts for hundreds of years and Mike is here to show you what to do to become the strongest, fittest you that you've ever been! Drop the excuses, pick up a kettlebell and watch your jiu jitsu transform!

Mike Perry is bringing to you the benefit of over a decade of experience training clients of all ages and ability levels, from those just testing their own limits for the first time, to professional athletes competing in the highest levels of football, soccer, baseball, and martial arts. He has dedicated his life to bringing out the best in his athletes, and now with this 2-volume set, that includes you! Learn the secrets that fighters in UFC and Bellator have already benefited from, as Mike leaves no stone unturned as he leads you through each crucial movement.

Between work, life and jiu-jitsu, it can be tough to find any extra time to dedicate to a workout regimen, especially when it means packing up and driving to a whole new gym just to move around some free weights, or do the same few lifts. That worry is totally eliminated, because now all you need is a kettlebell and your own floor! This program will fit itself seamlessly into even the busiest of lifestyles, all it takes is the desire to improve yourself.

Kettlebells are everything you need to supercharge your BJJ, all in one simple weight. The exercises and stresses that you will put on your body are exactly mimicking the same explosive motions and muscle endurance you need when you are rolling. That's probably why kettlebells have been the preferred exercise method for those in the know for hundreds of years. This is no fad workout, these principles and exercises are designed to stand the test of time!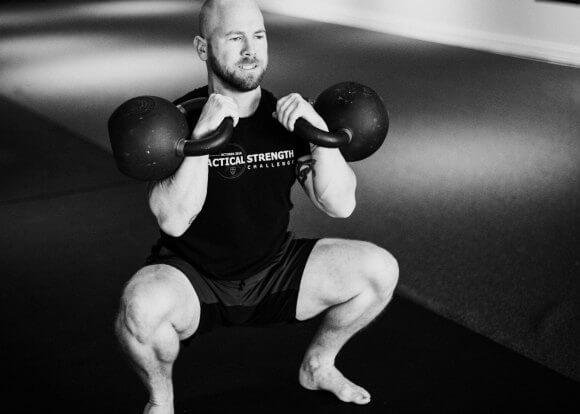 It's time to pull back the curtain on why kettlebells are the fundamental strength and conditioning building block of any fighter's life. Build the dynamic hip strength that will make your guard a killer. Create the bulletproof arms that won't gas out and leave your forearms burning. Form the core and back strength you need to pass and pressure with the best of them. Feel the benefit no matter what style of fighter you are, these exercises touch on the core movements and concepts of martial arts. These dynamic exercises will constantly challenge your body to adapt and improve, leaving those pesky training plateaus in the past.

Watch and follow along as Mike Perry takes you through each fundamental exercise, spending time to focus not just on what he is doing but why he is doing it, and how it will affect you. While keeping a measured and safe approach, Mike will lead you through the basic bodyweight exercises, breaking down complex motions into simple exercises, before showing you how to add weight and power to your workout. You're going to know not only what to do, but why you are doing it, what muscle groups you are using, and how this is going to help you on the mat.

Have you always wanted that little something extra to improve your ground game? Tired of struggling just to get through the warm up? Now a kettlebell is all you need, as Mike shares his expertise with you. Build the dynamic fighters body you have always wanted!

With everyone always trying to get as much mat time as possible, it can be really difficult to find a workout program that works for you and your schedule. So often, that just means people will ignore their strength and conditioning and focus on the mats. What ends up happening? They hit training plateaus, they face monotonous workouts, they end up being overpowered or gassing out, or (even worse) they risk injury because they are demanding too much of their muscles. The solution? Refocus on building your body back up with a kettlebell and just a bit of free space in your home.

Cut through the vanity exercises and get right to creating functional power in your body. Each exercise is specifically designed to activate and challenge as many muscle groups as possible, mirroring the full body experience in martial arts. Why isolate your muscle groups, when you need them working together?

There's no experience necessary here as Mike leads you through the correct way to swing a kettlebell. With so many major muscle groups working in unison, it can be easy to strain yourself with improper form. Learn exactly what a strength and conditioning coach of Mike Perry's calibur is looking for when he is training his athletes, and keep yourself progressing through each obstacle. Watch along as Mike breaks down the physically complex kettlebell swing into a few much more simple movements, so you know how to move and stress your body for optimal safety and benefit. Anyone who is looking to improve their coordination and grip will love the alternating one arm swing!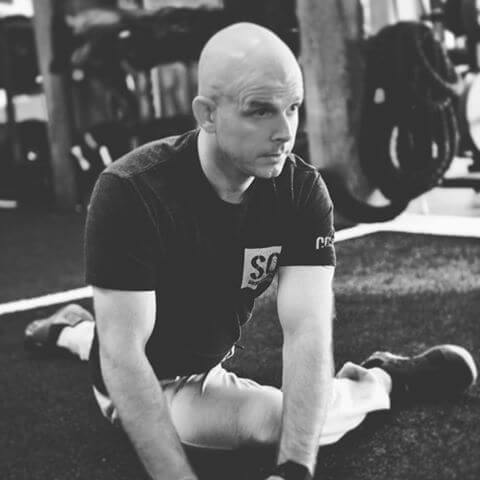 Build your base and develop your legs with Mike's awesome split stance squat patterns, a perfect lower body workout for any grappler. Brazilian jiu-jitsu demands a lot from the lower body, constantly pushing, pivoting, changing angles, and more, and it's important that our legs can respond to those demands. Never skip leg day again after you see these challenging kettlebell-based exercises that keep your legs engaged in the same split stances that we are constantly attacking and defending from.

The gold standard for building true, raw grappling power has always been the Turkish get-up. This one exercise engages your whole body, building muscle, coordination, grip, posture and more as you push yourself. Perfectly mimic the same explosive power you'll need to finish takedowns, sweeps, and passes, and get key details from Mike on the perfect form to strive for.

Open up and strengthen your shoulder with Mike's kettlebell armbar (sadly, a different kind of armbar). Instead of tapping you, Mike uses this armbar progression to dig into your shoulder and upper back, creating the tension and load you are looking for.

Once you have built up your body and your confidence, keep challenging yourself with more and more intense exercises. Graduate to swinging multiple kettlebells and managing opposing stresses on your body at once. Simulate those same motions you will feel on the mat, at the intensity you choose.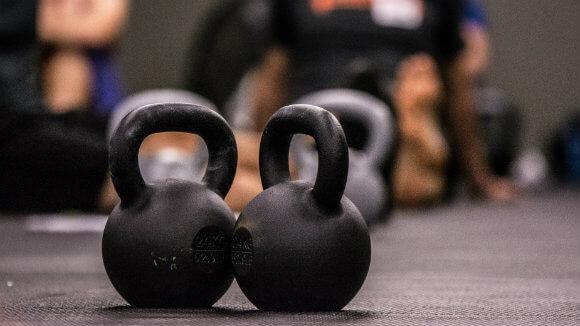 Explode Into Fitness And Discover A Whole New You!

Grab a weight and swing into a whole new type of fitness, as Mike Perry shows you how to develop real grappling power in this 2-volume set. Blast through your opponents after building your body using these proven methods. Never fear gassing out again after Mike leads you through how to turn anywhere into your own personal gym. Swing into this start-to-finish strength and conditioning guide like never before!

So, What's On The Series?
Part 1
2 handed swing Bodyweight - hip hinge - Kettlebell deadlift - Baby swing - Hike pass into full swing
One hand swing - One arm deadlift - One arm swing
Hand to hand swing - Switching grip drill - Hand to hand swing
Split stance patterns - 90/90 position - Split squat - Reverse squat - Front squat
The squat - Bodyweight Box squat - Bodyweight squat - Kettlebell box squat - Goblet squat
Turkish getup

Part 2
Kettlebell arm bar
Kettlebell snatch
Kettlebell clean
Kettlebell clean and press
Kettlebell Push press
Double kettlebell swing
Double kettlebell cleans
Double kettlebell front squat
Double kettlebell press
Renegade row
Tall plank pull through
Kettlebell Deadbug
Loaded carries