Gangster Grappling by Chael Sonnen
Chael Sonnen Shows The All The Takedowns, Passes & Submissions That He's Used To Submit High Level Black Belts In UFC Main Events – And Many More On The Mean Streets Of West Linn Oregon
Chael Is An Old School Wrestler With Easy-To-Learn, Practical Techniques
Chael was an NCAA All American wrestler for Oregon State and a USA Wrestling Olympic Alternate in Greco-Roman Wrestling
Chael draws back the curtain and lets you in on all of his secrets
Gain an entirely new perspective on grappling
Transform your entire game
Course Content
Volume 1
CHAPTER TITLE
START TIME
| | |
| --- | --- |
| Introduction into 50:50 over under from feet | 0 - 9:48 |
| Front headlock (darce choke) | 9:48 - 14:59 |
| Darce choke leg adjustment (thumb to face) | 14:59 - 17:47 |
| Guillotine details - | 17:47 - 28:48 |
| Chest lock - seat belt - back take- rear naked | 28:48 - 34:20 |
| Front headlock defense | 34:20 - 36:56 |
| Sucker drag | 36:56 - 38:10 |
| Guillotine defense | 38:10 - 40:50 |
Volume 2
CHAPTER TITLE
START TIME
| | |
| --- | --- |
| Hip lift (metzger) | 0 - 3:10 |
| Slide by and inside trip | 3:10 - 10:13 |
| Knee pressure pass into kimura or Americana | 10:13 - 20:05 |
| Missed kimura to reverse Head and arm choke | 20:05 - 23:15 |
| Taking the mount countering the bridge | 23:15 - 25:58 |
| Half guard pass to mount | 25:58 - 27:39 |
| Pressure knee pass - can opener - American key lock - pass to mount , kimura defense | 27:39 - 33:24 |
| Back step underhook counter sequence | 33:24 - 39:52 |
Volume 3
CHAPTER TITLE
START TIME
| | |
| --- | --- |
| Leg locks (straight ankle and heel hook) | 0 - 4:29 |
| Double under (swim pass) | 4:29 - 6:43 |
| Philosophy of Passing Guard To Attack | 6:43 - 10:36 |
| Take down defenses, three in a row, sumigaesh | 10:36 - 16:08 |
| Using the peak out after a missed shot | 16:08 - 22:07 |
| Guiloteen defense after double leg | 22:07 - 25:26 |
| Collar tie series - chain wrestling | 25:26 - 32:26 |
| Bottom position , turtle defense .switch - windshield wiper roll (grannie) , two on one . Step behind | 32:26 - 41:39 |
Volume 4
CHAPTER TITLE
START TIME
| | |
| --- | --- |
| Leg defense from turtle | 0 - 3:03 |
| Back mount escapes - leg (hook) defense | 3:03 - 6:59 |
| Mat returns | 6:59 - 12:08 |
| Heel hook from standing back | 12:08 - 16:13 |
| Arm bar from back | 16:13 - 19:47 |
| Attack re attack drill | 19:47 - 23:38 |
| Clearing ties | 23:38 - 27:54 |
| Double Under Defense To Attacking Options | 27:54 - 33:53 |
| Conclusion | 33:53 - 35:50 |
Chael Sonnen Shows The All The Takedowns, Passes & Submissions That He's Used To Submit High Level Black Belts In UFC Main Events – And Many More On The Mean Streets Of West Linn Oregon
Chael Is An Old School Wrestler With Easy-To-Learn, Practical Techniques
Chael was an NCAA All American wrestler for Oregon State and a USA Wrestling Olympic Alternate in Greco-Roman Wrestling
Chael draws back the curtain and lets you in on all of his secrets
Gain an entirely new perspective on grappling
Transform your entire game
Course Content
Volume 1
CHAPTER TITLE
START TIME
| | |
| --- | --- |
| Introduction into 50:50 over under from feet | 0 - 9:48 |
| Front headlock (darce choke) | 9:48 - 14:59 |
| Darce choke leg adjustment (thumb to face) | 14:59 - 17:47 |
| Guillotine details - | 17:47 - 28:48 |
| Chest lock - seat belt - back take- rear naked | 28:48 - 34:20 |
| Front headlock defense | 34:20 - 36:56 |
| Sucker drag | 36:56 - 38:10 |
| Guillotine defense | 38:10 - 40:50 |
Volume 2
CHAPTER TITLE
START TIME
| | |
| --- | --- |
| Hip lift (metzger) | 0 - 3:10 |
| Slide by and inside trip | 3:10 - 10:13 |
| Knee pressure pass into kimura or Americana | 10:13 - 20:05 |
| Missed kimura to reverse Head and arm choke | 20:05 - 23:15 |
| Taking the mount countering the bridge | 23:15 - 25:58 |
| Half guard pass to mount | 25:58 - 27:39 |
| Pressure knee pass - can opener - American key lock - pass to mount , kimura defense | 27:39 - 33:24 |
| Back step underhook counter sequence | 33:24 - 39:52 |
Volume 3
CHAPTER TITLE
START TIME
| | |
| --- | --- |
| Leg locks (straight ankle and heel hook) | 0 - 4:29 |
| Double under (swim pass) | 4:29 - 6:43 |
| Philosophy of Passing Guard To Attack | 6:43 - 10:36 |
| Take down defenses, three in a row, sumigaesh | 10:36 - 16:08 |
| Using the peak out after a missed shot | 16:08 - 22:07 |
| Guiloteen defense after double leg | 22:07 - 25:26 |
| Collar tie series - chain wrestling | 25:26 - 32:26 |
| Bottom position , turtle defense .switch - windshield wiper roll (grannie) , two on one . Step behind | 32:26 - 41:39 |
Volume 4
CHAPTER TITLE
START TIME
| | |
| --- | --- |
| Leg defense from turtle | 0 - 3:03 |
| Back mount escapes - leg (hook) defense | 3:03 - 6:59 |
| Mat returns | 6:59 - 12:08 |
| Heel hook from standing back | 12:08 - 16:13 |
| Arm bar from back | 16:13 - 19:47 |
| Attack re attack drill | 19:47 - 23:38 |
| Clearing ties | 23:38 - 27:54 |
| Double Under Defense To Attacking Options | 27:54 - 33:53 |
| Conclusion | 33:53 - 35:50 |
Check Out The Trailer!
What Will You Learn?
Chael Sonnen is a household name in the MMA community, and it is for a very simple reason - he talks a big game, and then he backs it up

Chael has been training for mixed martial arts since its early days, and rose with the sport to main events being part of some of the biggest shows of all time against some of the greatest fighters to ever compete. Before that, he was an NCAA All American wrestler for Oregon State and a USA Wrestling Olympic Alternate in Greco-Roman Wrestling.

He has lived and breathed fighting for decades, and it has always been with the same game plan: Take people down and make their lives miserable. He has traveled the world, trained with some of the best coaches, and tested and refined his game against the best he could find. Now he is sharing those grappling hacks with the world on his 4-volume set, Gangster Grappling: Using Wrestling Techniques To Dominate Jiu-Jitsu Opponents.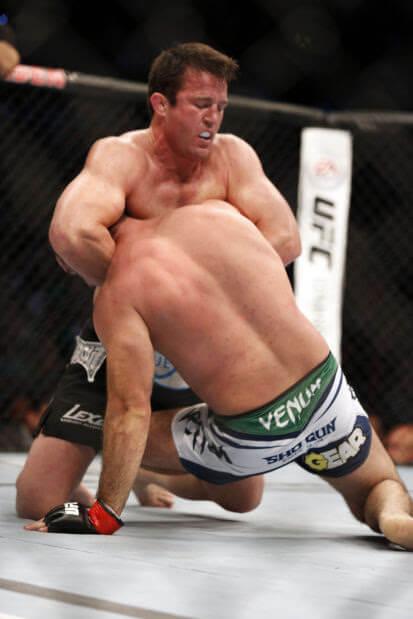 Rolling with a wrestler can feel night and day different from rolling with another standard BJJ guy in your gym. The movement, pace, and style is so different, it can be hard to keep up, even for an experienced fighter. That's because wrestlers have made a career out of building different moves and reactions that most BJJ guys never consider, so when you do come across them you are left trying catch up. Now you can turn those tricks around and use them to your advantage with Chael's help, as you see the ways that he has mixed BJJ and wrestling to form his own unique style.

The Chael Sonnen blueprint is really pretty simple at its base: take the person down, smash through the guard, and start hunting for chokes and joint locks. This is the formula that he has used to fight more world champions than anyone else, with incredible and consistent success. See the techniques that brought us epic main events like the vice-like Guillotine that he used to choke Shogun Rua unconscious, or the throws and passes he used to edge out greats like Michael Bisping and Wanderlei Silva. In fact, Chael is so confident in these BJJ hacks that he has competed at the highest levels of submission grappling, including 3 trips to ADCC, where he has always won in the early rounds and a huge win in a Superfight where he defeated the legend Leo Viera in 2017.


You can go from the person being left in the dust by slick wrestlers to being the one using their own tricks against them, once you have it all broken down for you by the West Linn Bad Boy himself. These aren't junk moves, they are tried and true techniques that you can use to short circuit your opponent's plans and get to your offense even easier. Under the watchful eye of veteran coach Chael Sonnen, this 4-volume set is perfect for leveling up your game in a whole new direction.

Chael Sonnen may also be known for having a silver tongue, but that doesn't stop at just promoting fights. He's also a gifted speaker as a coach, able to relate what he wants you to do, and why you are doing it. Everything he gives you is a piece to a larger puzzle that, when done, creates a complete foundation to better grappling success.



#1
Chael is riding his opponent and he is going to continue to take his back. Chael is an expert in controlling the turtle position

#2
Chael has continued to take his opponents back and throw the top hook in. He is not as concerned with the lower body control of hooks, and he focuses more attention to upper body control with the seat belt.


#3
Chael has continued to set up his trademark rear naked choke. The tricks he has for opening up the neck are second to none from his experience with world class MMA fighters.


Embrace The Grind With This Team Quest Original While He Teaches All The Ways He Deals With Some Of The Most Dangerous Fighters On The Planet

After a lifetime spent throwing people on the greco mats, Chael has some of the best understanding of body mechanics of anyone around and he uses that to start breaking down some of the most common problems he sees grapplers facing from the feet. Starting in the over-under clinch, see how a savvy vet like Chael keeps this from being a 50-50 fight, and how he begins progressing through his attacks. From trips and sweeps, all the way up to more serious throws and body locks, anytime you get to that 50/50 clinch you can turn it into a big scoring opportunity with some flair. See the brutal keys to hand fighting that Chael has down to a science, and then join in as Chael gives a masters class in the dynamics of the front headlock (both on offense and defense).


Even though he began as a wrestler, Chael has pulled off submission wins over some of the best he ever stepped in a cage with, including former UFC Champ Shogun Rua and Brian Stann. He does this with one very simple idea: he sticks to the gameplan. Now you can see the gameplan that turned him into one of the best, with all the passes, attacks, submissions, and transitions that he's been using at the highest levels. Everything he shows works in combat, and more importantly, everything works together so you never have to move away from your plan of attack.

If there's anything harder than taking a wrestler down, it might be keeping them there. It can be so frustrating to work that hard, only to have the guy immediately spring up and get right back to attacking you. What they are doing isn't magic, it's tried-and-true technique, and Chael breaks down everything you need to know to escape like a pro too! By keeping his hips moving and his neck clear, Chael can progress through his escapes, always moving forward until eventually he's out, and now that progression can be yours, along with escapes from other bad spots. Become impossible to pin down, thanks to the secrets and details!

See What Has Made Chael One Of The Most High Profile Competitors Of His MMA Generation With These Old School Grappling Hacks!

So, What's On The Series?

Part 1
Introduction into 50:50 Over Under from Feet
Front Headlock (Darce Choke)
Darce Choke Leg Adjustment (Thumb to Face)
Guillotine Details
Chest Lock - Seat Belt - Back Take - Rear Naked
Front Headlock Defense
Sucker Drag
Guillotine Defense

Part 2
Hip Lift (Metzger)
Slide By and Inside Trip
Knee Pressure Pass into Kimura or Americana
Missed Kimura to Reverse Head and Arm Choke
Taking the Mount Countering the Bridge
Half Guard Pass to Mount
Pressure Knee Pass - Can Opener - American Key Lock - Pass to Mount, Kimura Defense
Back Step Underhook Counter Sequence

Part 3
Leg Locks (Straight Ankle and Heel Hook)
Double Under (Swim Pass)
Philosophy of Passing Guard to Attack
Takedown Defenses, Three in a Row, Sumigaesh
Using the Peak Out After a Missed Shot
Guillotine Defense After Double Leg
Collar Tie Series - Chain Wrestling
Bottom Position, Turtle Defense - Switch, Windshield Wiper Roll (Grannie), Two on One, Step Behind

Part 4
Leg Defense from Turtle
Back Mount Escapes - Leg (Hook) Defense
Mat Returns
Heel Hook from Standing Back
Arm Bar from Back
Attack Reattack Drill
Clearing Ties
Double Under Defense to Attacking Options
Conclusion