The Curious Case Of Lachlan Giles
Very Curious....
With ADCC coming up this week the jiu jitsu community is on the edge of their seats waiting in anticipation. With so many names and so many amazing grapplers in one tournament we finally find out this weekend find out who the best grappler on earth truly is. With all the huge personalities and impressive resumes being thrown around, I feel that there is one person who for some reason is flying under everyone's radar, the velociraptor himself, Lachlan Giles. 
I started paying attention to Lachlan Giles after being introduced to his YouTube channel by a teammate, and if I'm being honest, it's honestly one of the best technique channels out there. After becoming a fan of how he explains his techniques and the precision of his attacks, I then found out he coached my favorite current grappler today, Craig Jones.  I then thought to myself, let's see how he does at ADCC 2017 before I go all in on the Giles train. I then watched his performance against JT Torres who is an absolute monster and who actually one that year and I was extremely impressed. Even though Lachlan lost by 2 points he still gave JT a great match. 
Then out of nowhere I heard he was grappling Rida Haisam in China, and for those who don't know who Rida is, he is a monster of a man. As I'm watching the match and seeing Rida tower over Lachlan, I honestly didn't think he was going to pull it off. He was coming off of a close loss to Oliver Taza at Polaris 7 and I just thought the size disadvantage was just too immense. Not only did Lachlan Giles finish Rida, but he did it twice with two heel hooks. 
Check out the Lachlan Giles Collection!
Next up for Lachlan was the ADCC Asia Trials, a chance for him to punch his ticket back to the big stage and show everyone what he could do, and Lachlan put on an absolute show and put on a leg lock clinic. After his ADCC trials win I was completely sold on Lachlan Giles, but then came the Kinektic tournament, Lachlan was chosen to be on the BJJ Fanatics team with Gordon Ryan, Craig Jones, Nicky Rodriguez and Edwin Najmi. The Fanatics team was the favorite to win so no one was expecting anything too special. That all changed when Lachlan Giles was chosen to be the first man to represent the Fanatics team and he went out and submitted an entire team!! Including Mansher Khera who previously beat him. The internet was set on fire by Lachlan Giles' performance, I honestly tuned in to watch Craig and Gordon but the only thing I remember was Lachlan's performance. 
For this year's ADCC I have Lachlan as my dark horse to win or to at least make it to the final in the 77KG division. It's going to be a ridiculous task with names like Vagner Rocha, Lucas Lepri, Gary Tonon, Renato Canuto, and defending champ JT Torres in his way. The thing that gives me that feeling is that Lachlan is on a crazy hot streak as of late. Lachlan Giles hasn't lost in his past 11 matches and I think he's going to carry that streak into Abu Dhabi. So, I think the world should get ready because I think Lachlan is going to shock the world. 
Also, as a side note I just want to say this, if anyone reading this has not checked out Lachlan Giles' front headlock series you are totally missing out, Lachlan has also made what I think is the greatest half guard instructional ever made called "The Half Guard Anthology". I am also personally waiting in eager anticipation for this body lock instructional to come out, should be a good one. GOOD LUCK LACHLAN!!!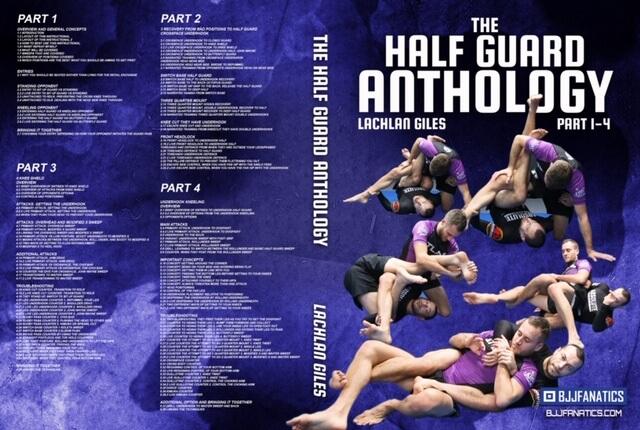 Lachlan Giles ran through FIVE consecutive opponents at the first ever Kinetic Team Submission event. He did that with his HIGH LEVEL Half Guard.
The Half Guard Anthology is a compilation of Lachlan's very BEST techniques.
Get over 10+ Hours of Top Notch Technique with Lachlan Giles!
ARE YOU A BJJ FANATICS INSIDER? IF NOT, YOU'RE MISSING OUT!
Our Insiders Club is by far the fastest way to level up your game. Take a deep dive on one specific skill per month with the top instructors in the BJJ Fanatics family.
AND NOW YOU CAN TRY IT FREE FOR 7 DAYS!
How much is it worth to get private lessons from Benardo Faria, the Ruotolo brothers, Giancarlo Bodoni, Jeff Glover, Neil Melanson, Marcos Tinoco… and the list goes on and on?! Forget it, don't answer that - because you get all of these guys and more… for just $9.99 a month! But the even better news is – we're currently giving you the chance to try out the Insiders Club for 7 days – FREE!
With your subscription you'll get a Private Lesson (Masterclass), At Home Drills to work on, rolling breakdowns and more. You'll also get a sneak peek at our upcoming Product Launch and Daily Deal schedules plus access to Daily Deals on BJJ gear and merchandise (up to 80% off). And much much more!