ADCC Spotlight: Lucas Lepri
As we scan the list of ADCC athletes for our BJJ Fanatics family members, one of the most accomplished BJJ players we come across is Lucas Lepri.
Lepri hails from Minas Gerais in Brazil where his childhood included athletics of all kinds: Skating, Swimming, Judo, and others.
He first turned to Brazilian Jiu Jitsu after seeing Fernando Pontes demonstrating his training regimen on television.
Spurred on, Lepri enrolled in Elan Santiago's academy.  After a couple of affiliation changes, both Santiago and Lepri found a home with Alliance MMA.
Lepri earned his black belt in 2006.
The boom in Brazilian Jiu Jitsu's popularity in America led Lepri to New York City when Alliance needed another coach to meet student demand.
Since becoming a black belt, Lepri has taken the competition world by storm, winning the IBJJF Pan Championship in No-Gi in 2009 and the IBJJF European Open in 2011.  He won the IBJJF Pan Championship on five different occasions, and he won the IBJJF World Championship seven times.
Lepri will compete in the -77 kg division at the ADCC World Championships.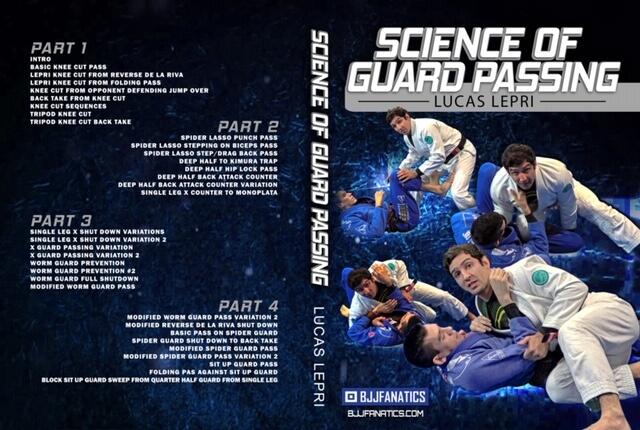 The Science of Guard Passing by Lucas Lepri is a masterclass in Guard Passing.
Lucas takes a Scientific approach that will assist you in passing Jiu-Jitsu's trickiest guards. Take care of your base and learn to dominate SCIENTIFICALLY with Lucas Lepri!
ARE YOU A BJJ FANATICS INSIDER? IF NOT, YOU'RE MISSING OUT!
Our Insiders Club is by far the fastest way to level up your game. Take a deep dive on one specific skill per month with the top instructors in the BJJ Fanatics family.
AND NOW YOU CAN TRY IT FREE FOR 7 DAYS!
How much is it worth to get private lessons from Benardo Faria, the Ruotolo brothers, Giancarlo Bodoni, Jeff Glover, Neil Melanson, Marcos Tinoco… and the list goes on and on?! Forget it, don't answer that - because you get all of these guys and more… for just $9.99 a month! But the even better news is – we're currently giving you the chance to try out the Insiders Club for 7 days – FREE!
With your subscription you'll get a Private Lesson (Masterclass), At Home Drills to work on, rolling breakdowns and more. You'll also get a sneak peek at our upcoming Product Launch and Daily Deal schedules plus access to Daily Deals on BJJ gear and merchandise (up to 80% off). And much much more!